Parents can sign up as an observer in Canvas by linking their account to their student's account by logging in as an observer.
Parents, login to Canvas or use the "Canvas Parent" app (iOS and Android download link) to see your student's due dates, announcements, and other course content.
Observers can view course content but cannot participate in the course.
To participate as an observer/parent, please use a
Chrome/Safari/Firefox browser
and follow the instructions below.
2. Click on "Parent of Canvas User?" link in the top right of the login screen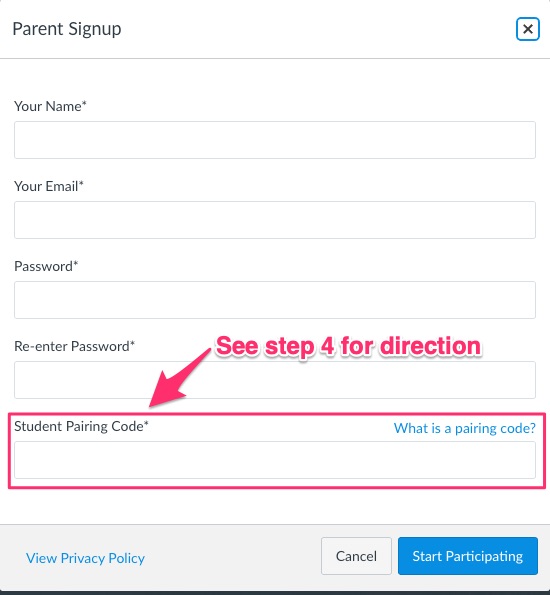 Enter the required information
Note: Your child's Student Pairing Code is case sensitive. See step 4 below for directions to generate a pairing code. This code can be found with your student when they log into CANVAS themselves, go to their Profile SETTINGS and tap PAIR WITH OBSERVER.
Click the Start Participating button
4. Student Pairing Code Directions
Have your child go to their Canvas Dashboard by logging in to https://cds.instructure.com
Click on the "Account" icon
Go to "Settings" then select "Pair with Observer" on the right side of the page to get the case-sensitive pairing code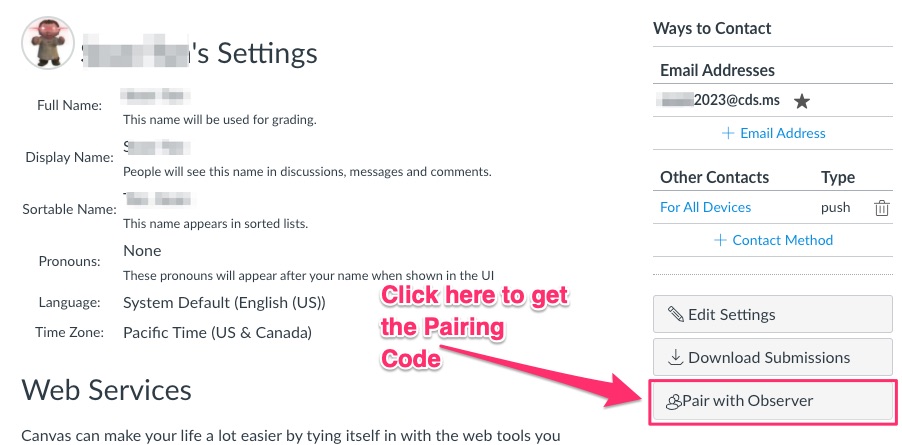 6. Logging in via QR code from the iOS and Android App. 
FIRST STEP: LOG IN FROM YOUR COMPUTER
Log into Canvas on your computer's Chrome/Safari/Firefox browser as a parent/observer by going to: https://cds.instructure.com/login/canvas
Click the "Account" icon
Click the "QR for Mobile Login" link
Click "proceed" to see the QR code
SECOND STEP: LOG INTO YOUR CANVAS PARENT MOBILE APP
Open the iOS or Android "Canvas Parent" app
Click the QR login link and click Next
Scan the QR code on your computer
You are now logged in as a Parent/Observer on your mobile "Canvas Parent" app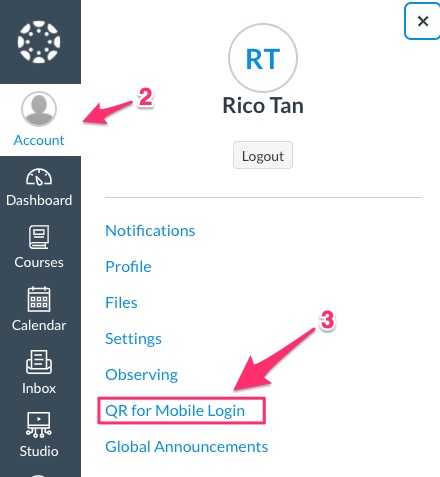 Canvas Parent Notification settings
Log into Canvas on your computer's Chrome/Safari/Firefox browser as a parent/observer by going to: https://cds.instructure.com/login/canvas
Click on Account (profile photo) in the top left.
Go into Notifications in that menu.
You can toggle notifications types in this page.
From left to right for each type, it's "Immediate," "Daily Summary," "Weekly Summary," or "Never."

TIP: For students or parents/guardians, the only immediate notifications I suggest are Inbox Conversations or Submission Comments so you can talk with one another regularly. Everything else is personal preference